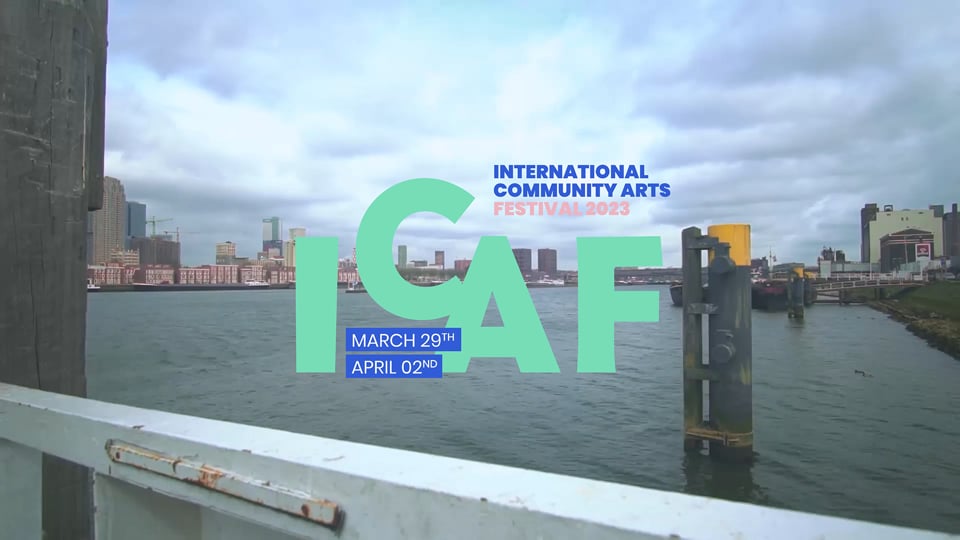 ICAF Festival 2023
WELCOME TO ICAF EDITION 9: THE SOUND OF CHANGE
For the 9th Edition of the International Community Arts Festival Rotterdam (ICAF), which encompasses performances from countries and contexts across the globe, covering theatre, performance, dance, visual arts, and music, we are proud to present ICAF 2023 "The Sound of Change". We invite you to form part of the sound of change we wish to create over our five shared days together, across different locations and public spaces that will turn Rotterdam into a stage that celebrates community arts practices in all of their many, fascinating and challenging forms.
Lees verder
More on our 2023 Festival theme, "The Sound of Change"
The time that has passed since the last, planned ICAF of 2020 has caused long-lasting, far-reaching rifts. For some, it has ground their known realities of before to a halt, offering time for pause and reflection, and a significant change of pace. Yet for many more, this same period has only increased existing hardships, tensions, suffering, precarity, and loss, in forms that will last far beyond the pandemic itself. We have been posed questions that relate individually, societally, organisationally and within and between our communities, that will be carried with us into the future. In this sense, as Arundhati Roy states, the pandemic presents "a portal, a gateway between one world and the next".

Many people working in community arts in very different contexts around the globe share the belief that inclusive, participatory arts can contribute to positive change and transformation in the world. Yet this is an ongoing journey of evolution and transition that is not always linear or predictable in its route. Such transformations can be recognised from large scale to small scale, and in both tangible and intangible forms. This said, all great participatory artworks and processes, regardless of their size, scale, or form, require us to think more deeply and richly about how we share and connect within our communities. They aid is in understanding how we form knowledge, build bridges, cross borders, and dig for layers of experience, meaning and perspective beyond our own, as part of a shifting axis.

ICAF 2023 endeavours to explore through diverse community arts practices and performances how such a complex journey of transition can be encapsulated through the medium of sound. Sound demonstrates as equal an importance for embodying the role of the listener, as it does the speaker. Sound is a communicator, a way of empathising, sharing, and expressing. Sound can be a song, a protest, a chant, or complete silence. It can be opera, music, meditation, clapping, percussion, or symphony. It can be footsteps, traffic, or a voice. It is life in action; felt sensorially and bodily. Sound is a vehicle to bring people and contexts together, to communicate with one another within our communities, and between our communities, and to connect across borders, boundaries, and bridges. Through its many, diverse forms, sound offers the option to whisper or to shout, to activate our voices and tell our stories, or make space through silence for those who are not heard, as we embark upon our journeys of evolution and transition, towards positive change.
Ticket and Pricing Information
There are several types of ticket available for ICAF 2023.
The Festival Package will give you access to all workshops, performances, lunches and dinners.
The Daily Fee gains you access to the morning seminars, workshops, performances, lunches and dinners.
The Sunday Special is an add on ticket that gives access to the close conversation, brunch and the finale show.
In order to make the festival accessible for everybody we have three staggered fee categories:
Regular festival visitor is for those in secure employment who have the financial capacity for the full fee.
Independent is for freelancers or those in less secure employment who are do not have the financial capacity for the full fee.
Student is for registered students. Must show a student card or pass upon arrival at the ticket desk.
Each of these ticket types includes access to the workshops, performances, lunches and dinners. During the festival transportation to the different locations will also be included.
TICKETS FOR REGULAR VISITORS
ENTIRE FESTIVAL € 620 (Regular Price)
ONE DAY € 200 (Regular Price)
SUNDAY € 60 (Regular Price)

TICKETS FOR INDEPENDENT/FREELANCE
ENTIRE FESTIVAL € 420 (Regular Price)
ONE DAY € 140 (Regular Price)
SUNDAY € 50 (Regular Price)

TICKETS FOR STUDENTS FULL PRICE
ENTIRE FESTIVAL € 280 (Regular Price)
ONE DAY € 85 (Regular Price)
SUNDAY € 50 (Regular Price)
For those of you who do not have access to any of these categories or fees above, we encourage you to contact us at info@icafrotterdam.com to discuss alternative options